What is a CompTIA Project + Certification?
CompTIA Project+ is the Computing Technology Industry Association's certification program designed to demonstrate validated learning and skills in project management. CompTIA certification helps show employers that a potential employee is skilled, knowledgeable and capable of managing projects for their organization.
Project+ ensures an IT professional has the knowledge and skills to:
Project Basics: Summarize the properties of the project, phases, schedules, roles and responsibilities, and cost controls, as well as identifying the basic aspects of Agile methodology
Project Constraints: Predict the impact of various constraint variables and influences throughout the project and explain the importance of risk strategies and activities
Communication and Change Management: Understand appropriate communication methods of influence and use change control processes within the context of a project
Project Tools and Documentation: Compare and contrast various project management tools and analyze project and partner-centric documentation
CompTIA Project+ Exam Details
| | |
| --- | --- |
| Exam Codes | PK0-004 |
| Exam Description | CompTIA Project+ is designed for business professionals who coordinate or manage small-to-medium-size projects, inside and outside of IT. The exam certifies the knowledge and skills required to manage the project life cycle, ensure appropriate, communication, manage resources, manage stakeholders, and maintain project documentation. |
| Number of Questions | Maximum of 95 questions |
| Type of Questions | Multiple choice questions (single and multiple responses), and drag and drops |
| Length of Test | 90 Minutes |
| Passing Score | 7​10 (on a scale of 100-900) |
| Recommended Experience | At least 12 months of cumulative project management experience or equivalent education |
| Launch Date | March 15 2017 |
| Retirement | N/A |
| Languages | English, Japanese |
| Testing Provider | Pearson VUE Testing Centers |
| Price | $319 USD (See all pricing) |
How Much Does the CompTIA Project+ Certification Cost?
The Academy of South Florida offers a price of  $319 for the CompTIA Project+ Exam Voucher.
What type of jobs can you get with the CompTIA Project+ Certification?
Project+ certification may qualify you for a variety of positions including:
Average salary by project management certification.
Source: Payscale.com
Where can you find training for CompTIA Project+ Certification?
You can take training at the Academy of South Florida Inc for CompTIA Project+ Certification classes. With several convenient training delivery methods offered, The Academy makes getting the training you need easy. Whether you prefer to learn in a classroom or an online live learning virtual environment, training videos hosted online, and private group classes hosted at your site. We offer expert instruction to individuals, government agencies, non-profits, and corporations. Our live classes, on-sites, and online training videos all feature certified instructors who teach a detailed curriculum and share their expertise and insights with trainees. No matter how you prefer to receive the training, you can count on The Academy for an engaging and effective learning experience.
What are some popular books?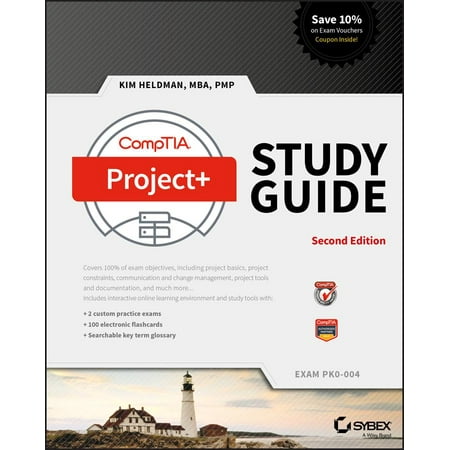 Author: Kim Heldman
The CompTIA Project+ Study Guide, Second Edition is your comprehensive resource for taking Exam PK0-004. With 100% coverage of all exam objectives, bolstered by real-world scenarios and the Sybex interactive learning environment, this book gives you everything you need to approach the exam with confidence. Detailed explanations and superior study tools cover and reinforce setup, initiation, planning, execution, delivery, change, control, communication, and closure, and the author Kim Heldman's twenty-five years of project management experience provide deep insight into real-world applications. Study tools include access to two bonus practice exams, allowing you to focus on areas you need further review, and electronic flashcards provide last minute review on key concepts.
The Project+ exam is a first step into the complex world of project management, and serves as a springboard to the Project Management Institute's (PMI) PMP certification. This study guide helps you build the knowledge you need to be confident on exam day.
Review 100 percent of the Project+ exam objectives
Understand the real-world applications of each concept
Gain expert insight drawn from real-world experience
Access online practice exams, electronic flashcards, and more.

Author: Joseph Phillips
This fully updated self-study guide and professional resource shows how to successfully manage projects and prepare for the challenging CompTIA Project+ exam. Project Management with CompTIA Project+: On Track from Start to Finish, Fourth Edition, walks you through each step of the project management process, covering critical strategies for on-time and within-budget projects. You'll get complete explanations of every objective on the CompTIA Project+ exam along with end of chapter summaries, quizzes, and exercises that reinforce key points.
Coverage includes:
• Initiating the project
• Developing project plans
• Working with management
• Managing project scope
• Creating the budget
• Building a project plan
• Organizing a project team
• Managing teams
• Implementing the project plan
• Revising the project plan
• Enforcing quality
• Completing the project
Electronic content includes:
• Two complete practice exams
• Video training from the author
• Templates and worksheets
 Author:  Brett Feddersen
CompTIA Project+ Practice Tests for exam PK0-004 compliments the Sybex CompTIA Project+ Study Guide by providing last minute review and identifying areas where further review may be needed. 1,000 unique questions are organized into 4 practice tests that cover 100% of all exam objective domains. Practice tests not only provide the answer, but also give you detailed explanations so this is an excellent resource for last minute review to identify areas where more attention is needed. Two additional 90-question practice exams prepare you for exam day. The Sybex interactive online learning environment provides an online review option where all 1,000 unique questions are available.
Access to all practice tests online with the Sybex interactive learning environment 4 unique practice tests include expert explanations Covers 100% of all CompTIA Project+ exam PK0-004 objective domains Whether you have studied with the Sybex study guide for the Project+ exam or have used another brand, this is your chance to test your skills. Studying the exam objectives is important but testing the reach of your knowledge and identifying areas where further review may be needed could be the difference on exam day.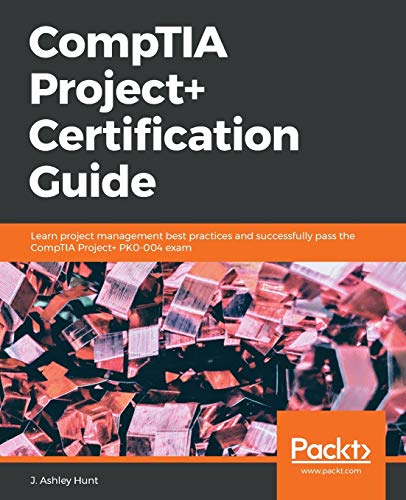 Author:  J. Ashley Hunt
The CompTIA Project+ exam is designed for IT professionals who want to improve their career trajectory by gaining certification in project management specific to their industry. This guide covers everything necessary to pass the current iteration of the Project+ PK0-004 exam.
The CompTIA Project+ Certification Guide starts by covering project initiation best practices, including an understanding of organizational structures, team roles, and responsibilities. You'll then study best practices for developing a project charter and the scope of work to produce deliverables necessary to obtain formal approval of the end result. The ability to monitor your project work and make changes as necessary to bring performance back in line with the plan is the difference between a successful and unsuccessful project. The concluding chapters of the book provide best practices to help keep an eye on your projects and close them out successfully. The guide also includes practice questions created to mirror the exam experience and help solidify your understanding of core project management concepts.
By the end of this book, you will be able to develop creative solutions for complex issues faced in project management.
What you will learn
Develop a project charter and define team roles and responsibilities
Plan the project scope, schedule, budget, and risks
Process change requests and work with procurement documents
Close a formal project or phase and get an overview of Agile Project Management principles
Create a work breakdown structure (WBS) and dictionary
Discover best practices for identifying, analyzing, and responding to risk
Gain important exam information and discover the next steps
Who this book is for
The CompTIA Project+ Certification Guide is for entry-level project managers who are looking for a common language and best practices in the IT project management space as well as a certification to excel in their career.
Where can you find a study guide?
The Academy of South Florida Offers the CompTIA Project+ Course and learning resources.